Prices Realized From Our 3019th Sale
Prices realized from our 3019th Sales are available here. We would like to thank everyone who participated in the sales and helped to make them so successful. Please note that prices realized do not include our 18% buyer's premium.
We are currently hard at work preparing the catalogue for our 3020th Sale (October 25-27, 2018). If you are interested in consigning to this auction, please contact us today to speak to a member of our team.
Our 2018 Auction Schedule
Partner of the Global Philatelic Network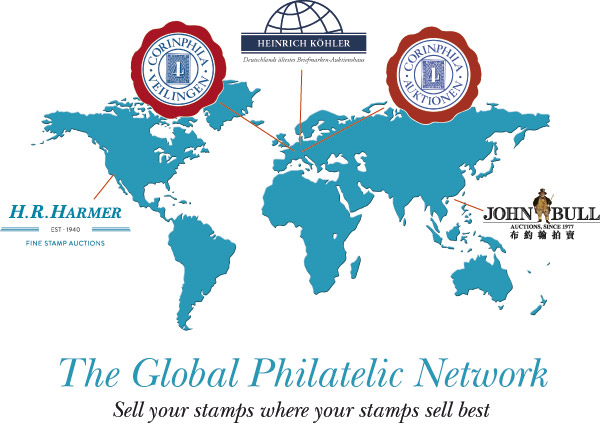 Global Philatelic Network Auctions
Company & Country

Next Auctions

Consignment Deadline

STOCKHOLMIA 2019 RARITY AUCTION
The 150th Royal Philatelic Society London Birthday-Sale
1 June 2019
15 March 2019
Corinphila Switzerland
Switzerland's Oldest Stamp Auction House.
Founded in 1919
28 November-1 December 2018
30 September 2018
Corinphila Netherlands
Fine Stamp Auctions since 1974
15 & 20-22 September 2018
March 2019
30 June 2018
15 December 2018
Heinrich Koehler, Germany
Germany's Oldest Stamp Auction House.
Founded in 1913
25-29 September 2018
March 2019
15 July 2018
15 January 2019
H.R. Harmer, USA
Founded in 1940
25-27 October 2018
7 September 2018
John Bull, Hong Kong
Hong Kong's Oldest Philatelic Auction House.
Founded in 1977
9-11 & 30 June 2018
15-17 December 2018
-
30 September 2018