Consign Now To Our April 2019 Sale!
H.R. Harmer's next public auction will be held from April 4-6, 2019 in Costa Mesa, California. We are currently seeking consignments for this sale. Already we have a wonderful offering of United States and Possessions postal history, including one of the largest collections of town cancellations ever assembled, in addition to specialized holdings of Guam, Eastern and Western Expresses, Locals & Carriers, and much more.
If you are interested in consigning, please contact us today to speak to a member of our team.
Online Bidding For Our Autumn Sales Is Now Open
Partner of the Global Philatelic Network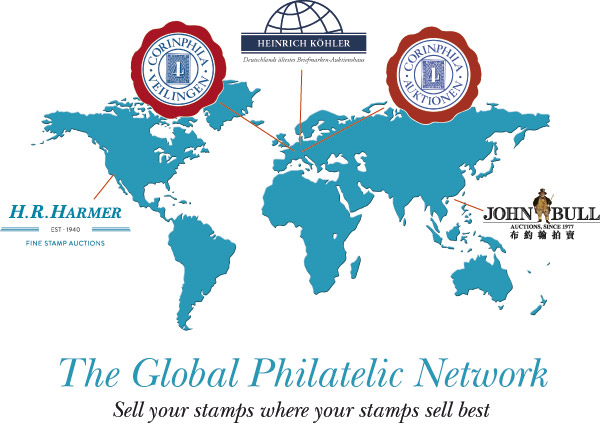 Global Philatelic Network Auctions
Company & Country

Next Auctions

Consignment Deadline

STOCKHOLMIA 2019 RARITY AUCTION
The 150th Royal Philatelic Society London Birthday-Sale
1 June 2019
15 March 2019
Corinphila Switzerland
Switzerland's Oldest Stamp Auction House.
Founded in 1919

11-15 June 2019
Nov./Dec. 2019

15 March 2019
15 September 2019
Corinphila Netherlands
Fine Stamp Auctions since 1974
16 & 21-23 March 2019
11 May 2019
12-14 & 21 September 2019
-
-
15 June 2019
Heinrich Koehler, Germany
Germany's Oldest Stamp Auction House.
Founded in 1913

26-30 March 2019
8 June 2019
17-21 September 2019

15 January 2019
-
15 July 2019
H.R. Harmer, USA
Founded in 1940
4-6 April 2019
29 June 2019

31 January 2019
-

John Bull, Hong Kong
Hong Kong's Oldest Philatelic Auction House.
Founded in 1977
15-17 June 2019
December 2019
31 March 2019
September 2019
Announcing Our Autumn 2018 Auction Schedule
The Elmer Campbell Collection of Germany and German Areas
A lifelong Ohio native, Mr. Elmer Campbell was a Vietnam Special Forces veteran with a lifelong interest in military history. Although he started out by collecting worldwide classic issues, he quickly came to specialize in Germany and its related areas.
What is remarkable about the Elmer Campbell is the attention to detail that was paid with regard to watermarks, shades, and other varieties. This method of collecting is rare in America, and speaks to his in-depth knowledge and enthusiasm for German philately.
We will be offering the Elmer Campbell collection at
NOJEX/ASDA Postage Stamp Show 2018
on October 20 in East Rutherford, New Jersey. Viewing will be held both at the show and in our office in the weeks leading up to the sale. For more information please contact us today.