The First "ERIVAN" Sale Is Just Around The Corner...
The first sale of the United States portion of the "ERIVAN" Collection is just around the corner. The sale will be held Saturday, June 22 at 6:30 PM EST at the Collectors Club (22 E 35th St, New York, NY). It will be preceeded at 5 PM by hors d'oeuvres and refreshments. If you are interested in attending, please register here.
Go to the Live Sale of the 1st ERIVAN Auction on StampAuctionNetwork
Viewing of lots is available all next week (June 17-21) at our office by appointment only, or at the Collectors Club the day of the sale from 10 AM-2 PM. Please contact us today if you are interested in scheduling viewing.
The "ERIVAN" Collection - 1st Auction June 22
The first sale of the "ERIVAN" Collection, including the famed Alexandria "Blue Boy," will be held in New York City on June 22. For more information visit www.erivan-collection.com.
H.R. Harmer is moving...
Catalogues For Our April 2019 Auctions Now Online
We are proud to present our next two sales, both to be held in April. Printed catalogues are currently being produced, and will be in the mail within the next couple of weeks. We will also have our sale hosted on StampAuctionNetwork in the coming days, for those who prefer to bid live.
Each day we are uploading hundreds of new photographs of collection lots, so please check back if a lot you are interested does not yet have images. If you have any questions about our sale or are interested in registering to bid, please contact our office by phone, fax, or email today.
Sale 3024 - Session 1 - United States Stamps and Covers
Sale 3024 - Session 2 - British Commonwealth and Foreign Stamps and Covers; United States Postal History
Sale 3024 - Session 3 - United States, British Commonwealth, and Foreign Collections
Sale 3025 - The Richard Frajola Collection of Classic Nepal
PDF Catalogues:
Sale 3024 - Session 1 - United States Stamps and Covers (Lots 1001-1480)
Sale 3024 - Session 1 - United States Stamps and Covers (Lots 1481 -1931)
Partner of the Global Philatelic Network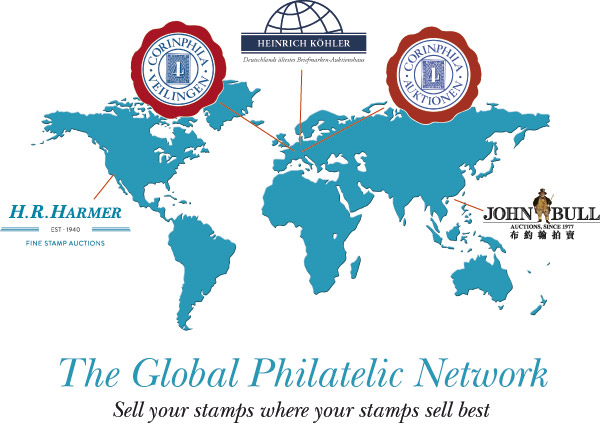 Global Philatelic Network Auctions
Company & Country

Next Auctions

Consignment Deadline

STOCKHOLMIA 2019 RARITY AUCTION
The 150th Royal Philatelic Society London Birthday-Sale
1 June 2019
1
Corinphila Switzerland
Switzerland's Oldest Stamp Auction House.
Founded in 1919
11-15 June 2019
3-7 December 2019
-
15 September 2019
Corinphila Netherlands
Fine Stamp Auctions since 1974
16 & 21-23 March 2019
11 May 2019
12-14 & 21 September 2019
-
Model Cars
15 June 2019
Heinrich Koehler, Germany
Germany's Oldest Stamp Auction House.
Founded in 1913
26-30 March 2019
8 June 2019
17-21 September 2019
-
German States - 1st ERIVAN-Auction
1 July 2019
H.R. Harmer, USA
Founded in 1940
4-6 April 2019
22 June 2019
October 2019
-
United States - 1st ERIVAN-Auction
July 2019
John Bull, Hong Kong
Hong Kong's Oldest Philatelic Auction House.
Founded in 1977
15-17 June 2019
December 2019
31 March 2019
September 2019